---
If you would like to commission me to create a piece and bring your design ideas to life, then I will be happy to either design a piece for you or work to your instructions.
Many customers have their own sea glass that they have collected and would like it drilled and/or shaped to form unique and personal pieces of jewellery.
I produce items with a variety of finishes including satin (tumbled), frosted, etched, engraved and polished (high gloss)
For commissions and bespoke work contact me via the comment section below giving a brief description of what you are looking for. Please feel free to discuss your ideas without any obligation or commitment.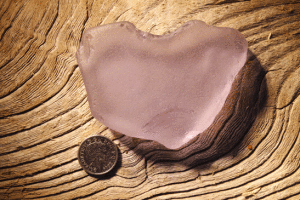 This lovely amethyst coloured sea glass was supplied by the customer and I was commissioned to carve and smooth it. Click on the image to see the final result